Think you have some great original recipes in your Family cookbook Project? Here is a way to prove it and make some money at the same time!
Global Flavors Recipe Contest – Deadline January 15, 2020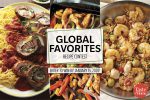 We've got the travel bug, and we're looking for your best authentic recipes from across the globe. We're talking mains like tender Korean beef bulgogi, tangy German sauerbraten and Indian chicken tikka masala. Send us soups and sammies, too, like Thai tom ka gai, Vietnamese banh mi sandwiches and Moroccan lentil soup. Snacks like Puerto Rican fried plantains and appetizers like baba ghanoush are welcome, too. And don't forget dessert! We'll never turn down sweets like flaky baklava, French madeleine cookies and Brazilian passion fruit mousse. Send your favorite recipes from countries across the world and you could win big! Read the contest rules here.
Holiday Potluck Recipe Contest – Deadline January 17, 2020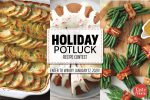 The invitations are coming your way and you know just what to bring. Like your peppermint cheesecake bites that practically fly off the table. Or that smoky chorizo bean dip that gets devoured in a dash. Those bacon-ranch potatoes are always a hit, right? And the tortellini-caprese skewers get plucked up, pronto. If your dish leaves the holiday party without any leftovers, send us that recipe, and you could win $500! Read the contest rules here.
Prizes
Each contest will award One Grand Prize winner will be awarded $500; one first place winner will be awarded $300; one second place winner will be awarded $150; one third place winner will be awarded $75; and eight runners-up will each win a book as selected by Sponsor.