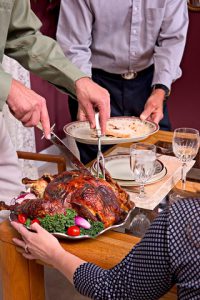 Creating a family cookbook is a very satisfying event. However getting everyone Else in your family to contribute their favorite recipes is always one of the challenges to printing your cookbook in a timely manner.
However, the holidays are a great time to motivate your contributors and gather lots of incredible recipes.
The holidays are known for two things: gathering together with friends and family in parties and dinners, and bringing out tried-and-true family favorites that don't necessarily get made during the rest of the year.
Look at Christmas cookies for example. How often do you make Christmas cookies in July? Have you ever made a plum Pudding for September? how about a roast turkey with stuffing and all the sides including cranberry sauce for a nice Wednesday evening meal? probably not. These are all safe for the year and holidays.
The other aspect of holidays are large gatherings, being a holiday party or a dinner with extended family. Often people bring side dishes and appetizers and desserts as they are part of the meal.
This is a great opportunity to let people know what you like and ask them to contribute that specific recipe to the family cookbook. They will feel proud that everyone loves their dish and will be more likely to contribute it knowing people will enjoy it.
Asking people face-to-face is always a great way to get recipes, however reminding them via email after the holidays is also an important follow-up. Family Cookbook Project has a reminder tool that will allow you to select the people you had spoken to during the holidays and remind them to submit their recipes. This is a good time to Osco ask them to enter additional recipes that they love.
Bill Rice is founder and Co-Publisher of the Great Family Cookbook Project, a website that helps families and individuals collect and share food memories through customized printed cookbooks filled with treasured recipes. Follow us on Facebook and Pinterest!