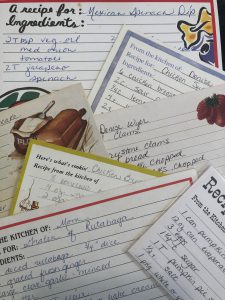 Family members may look unrelated, live in different areas, even have different political views. But even the most diverse family can be united by love of their family's unique food traditions.
Until now, the tradition of the family cookbook has often been handwritten on note cards, hastily scribbled on napkins during family gatherings or jotted in lovingly preserved notebooks, yellowed with age. Like everything else it touches, the Internet is revolutionizing family-recipe gathering.
"Food is an integral part of who we are as individuals, as members of society and as members of groups within that society," says Bill Rice, founder of the Family Cookbook Project, a Web site that helps thousands of families compile their favorite recipes and publish their own cookbooks. "From Aunt Edna's pot roast to Grandma's special pecan pie, family recipes create common ground and wonderful shared memories."
The Family Cookbook Project uses proprietary software to help budding cookbook authors compile, edit and organize their family's recipes online. By creating an account at www.familycookbookproject.com, users can send an invitation e-mail to family members asking them to contribute favorite recipes for the book.
Family members then sign on to the "editor's" account and enter their information, eliminating the laborious process of collecting and re-keying recipes. Once all contributions are in, the editor then uses the site's software to edit and organize the cookbook. Editors can choose from a variety of personalized covers and divider pages for their spiral-bound book.
The cost of creating a family cookbook is just $19.95 for up to 10 contributors or $29.95 for an unlimited number of family contributors, plus the cost of printing. With a low minimum print quantity of just 50 books, families print and many cookbooks as they need and give others as gifts..
"Although some of our more enterprising editors sell their family cookbooks on eBay," Rice points out.
To get started compiling your family's recipes and publishing your own family cookbook, visit www.familycookbookproject.com.
Bill Rice is founder and Co-Publisher of the Great Family Cookbook Project, a website that helps families and individuals collect and share food memories through customized printed cookbooks filled with treasured recipes. Follow us on Facebook and Pinterest!