Mom's Authentic Chicken Enchiladas Recipe
Tried it? Rate this Recipe: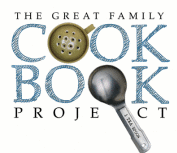 This recipe for Mom's Authentic Chicken Enchiladas, by Dar Stukey, is from Enjoy!, one of the cookbooks created at FamilyCookbookProject.com. We help families or individuals create heirloom cookbook treasures.
Contributor:

Contributor:

Dar Stukey
Added: Wednesday, September 17, 2008

---

Category:

Category:

---

Ingredients:

Ingredients:

1 whole chicken

Water for cooking it* (enough to cover, no less than about 7-8 cups or more) [can also be done in a pressure cooker with 2 cu water, in which case the broth will be concentrated, so add water and prepared broth or a tablespoon (to taste) of Knorr Caldo De Pollo to as needed to bring to volume for rest of cooking process and sauce)*

1 pk Lawrey's Enchilada sauce mix for sauce base

1 can tomato paste (6 oz)

3 cu chicken broth (preferably from the cooked chicken)* see above note on water

masa (corn) flour

crushed garlic (1/4 tsp minimum, or to taste...about 1 clove's worth is best)

cumin (about 1/8 tsp/to taste)

Taco seasoning

Lawry's seasoned pepper

Pollo Asada seasoning

Annato

[optional: a sprinkle of dried or sprig of fresh cilantro...not too much, it's VERY strong...or chop it up fresh as a condiment for consumers to add their own)

about 24 corn (white or regular...reg are more flavorful) tortillas or more...the quantity of enchiladas this recipe will make depends on the size of the chicken.

Cacique Casero cheese (or other white mexican cheese), 1 large wheel, broken up like cottage cheese (run over grater to break it up) or Monterrey Jack cheese, 1 large block, shredded/grated

Cheddar cheese, 1 large block, shredded/grated

[optional, but authentic ingredient -1 red onion, medium chopped...I used to use it, but I think they are better without...onion overpowers, and be careful with the garlic.]

[optional: olives/green chiles for topping or to add to filling...but I don't use them]

---

Directions:

Directions:

This is a long process, but relatively easy...just lots of simple steps. You can cook the chicken ahead, both cooking steps can be done at different times, the chicken frozen in between each cooking, and then you can assemble the enchiladas and eat them, ...or you can cook the chicken in steps, on consecutive days, only refrigerating it in between, and assemble the enchs and THEN freeze them for later eating. Here's how it goes, either way:

Cut the chicken in pieces - legs, thighs, etc.
Overcook the chicken in water to cover in a large pot until it falls off the bone as you pull it out. [alternative: pressure cook if you need it faster]

Remove the chicken pieces from the broth to cool in a colander; conserve all broth.

While the chicken cools, prepare the sauce.
Pour 3 cups broth into a medium pot (needs to be able to hold at least 6 cups...if you are doing a double batch or larger, use one packet of Lawry's, and a can of tomato paste and the multiple of each seasoning for each chicken used.}

Add the tomato paste to the broth, and blend it into the broth with the wisk/hand blender (do this in the sink to keep the mess down)
Blend about 1/4 cu masa flour with about 3/4 to 1 cu COOL water or COOL broth to make a paste.
Blend about 1/2 cu into the tomato mixture.
Empty enchilada sauce mix packet into the liquid, and 1-2 tsp taco seasoning, a few shakes seasoned pepper, about 1/8 tsp cumin (VERY important...don't leave out), pollo asada (1/2 - 1 tsp), a bit of annato, and garlic to taste (about 1 clove's worth...1/2-1 tsp, depending how you like it). If desired add a bit of onion or onion powder, but don't over-do it...it's better to save the onions for putting in the roll-up assembly of the enchilada, or the onion overpowers the other blends. Watch out for the garlic too...add all the above a bit at a time, actually, till it both SMELLS and TASTES right. Add some caldo de pollo, but go easy, since it makes things VERY salty if you overdo it...other chicken boullion is ok too, but Knorr is best.) Place over medium heat and stir constantly. As the mixture thickens, add flour paste or water/broth as needed to get a consistency somewhat like flowing honey...it shouldn't glop as it comes off a spoon, nor should it pour fast, like soup. It should be a bit thicker than gravy, to flow over the enchiladas with a bit of help from a spoon. The masa paste tempers the spices and tomatoes and helps unite them and smooth away bitterness/acidity, so make sure to add it or the sauce will be too thin and sharp. Turn off the heat. and allow to cool. [You can refrigerate it covered, or freeze it if you will be assembling later.]

Spread newspaper on the counter. Place plastic cutting mats or a dinner plate on the paper for assembling the enchiladas.

When the chicken is cooled,
bone the chicken into a large bowl. I use everything, except the kidneys and liver/giblets. I DO use the neck meat, because of it's added flavor, but it takes a while to bone the vertebrae....BE VERY CAREFUL TO REMOVE ALL BONES AND CARTILAGE; small well-cooked bones are soft, and can be chewed, but don't take chances, because they can get stuck in the mouth or throat) This part takes a while.


Next, cook the chicken down in a large skillet with enough broth to cover it, adding some of the prepared enchilada sauce to the broth, a bit of garlic and any of the other seasonings (esp. cumin...just a pinch) in SMALL amounts, just to add a bit of flavor to the chicken. As it heats up, break it up into fibers with a wooden spooh, and let all the broth evaporate, leaving behind slightly moist chicken. Turn off heat, remove pan to assembly area. [Or put chicken in a container or large ziploc bag and freeze for later.]

Just before assembly:
Shred cheeses. [You can use pre-shredded cheeses. I use a mexican blend and add the others to that sometimes] Refrigerate.

Heat tortillas as follows:
Dampen the tortillas under sink spray or use spray bottle. They should not be soggy...drain or lay on paper towel if needed.
Heat tortilla warmer so water jumps and evaporates immediately when it is sprinkeled on the skillet... med high heat. Spray skillet with nonstick spray and spread lightly with paper towel. The Mexican way is to take a cloth dipped in lard and lightly wipe it over the skillet.
Heat the tortillas one at a time...about 30 seconds on each side...the tortilla should get brown spots without turning hard!! The toasted spots are needed for flavor, but do not crisp the tortilla.
Place heated tortilla into a warmer. Only do about 10 at a time.

Assembly:

Place the bowls of Mexican cheese, (or mixed cheeses if you desire them that way), chicken and enchilada sauce on your paper. Dip a basting/paint brush in enchilada sauce and paint both sides of the tortilla...the one with the stripes should be facing up. Place about a tablespoon of cheese and then chicken (and onion if you wish, but only a little) in the middle third of the tortilla, but at the bottom of that middle, spreading the fillings evenly in a row. Wrap the lower edge of the tortilla over the fillings and tuck it as you roll the tortilla around them. Place the rolled enchilada seam-side down in an oblong pan [or on a rimmed cookie sheet if they are to be frozen and used individually] Repeat the process until chicken runs out. Freeze the enchiladas at this point if using them in the future. Place entire pan in freezer or if enchiladas are on cookie sheet, separate them after freezing, and place in zip-loc bags in freezer. Take out what you need or freeze in groups of the amount you will need at a time.

For immediate use, cover the enchiladas in the oblong pan with sauce, using the brush to make sure they are well covered, but not too thickly coated. Top with cheddar cheese, and then Mexican cheese, or only one or the other, or a purchased blend...the cheddar/cacique layers are most authentic.

If using frozen enchiladas, let them thaw completely and reach room temp before topping with sauce and cheese.

Bake at about 350 until heated through and cheese is well melted, or heat in microwave (only in glass pan.) Have extra sauce and cheese on hand. Serve with calabacitas, or plain corn, cole slaw, beans, mexican rice, salad, quacamole, flan, fruit, beer....have a nice comida.



---

Number Of Servings:

Number Of Servings:

depends on the amount of chicken, but about 12-20 enchiladas, and about 4-5 cups of sauce.

Preparation Time:

Preparation Time:

1 day to however long before you want to eat them.....

Personal Notes:

Personal Notes:

Helpful Equipment:
large pot
large skillet
small pot
liquid measuring cup
several medium/large bowls/containers
whisk or electric hand blender
scraper and wooden spoons
oblong baking dish
newspapers
plastic cutting mats if you have them
wide paintbrush for basting (new/clean for cooking only)
3 pair small tongs, or 3 large soup spoons or something to measure about 1-1 1/2 Tbsp of each filling
cast-iron Tortilla pan or skillet,
non-stick spray.
tortilla warmer or towels to keep them warm

Learn more about the process to create a cookbook -- or
Start your own personal family cookbook right now! Here's to good eating!
Search for more great recipes here from over 500,000 in our family cookbooks!