The Process of How to Create a Family Cookbook
Step by step instructions on how to get it done!
Creating a treasured family cookbook has never been easier. The Great Family Cookbook Project was developed to make the process easy to understand and accomplish.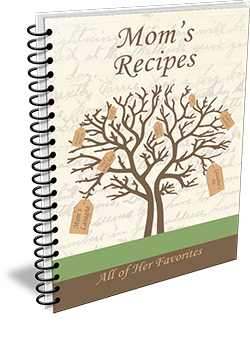 1) Create an account – This is as simple as providing your contact information and selecting a cookbook title (you can change it any time).
2) Invite Others to Contribute (optional) - We have developed an easy to use invitation tool to get the ball rolling. All you need is each person's name and email address. For people without email addresses, we provide a simple letter for you to use to contact them. You also can skip this step and create and enter all of the recipes yourself.
3) Enter Your Favorite Recipes – Lead by example. Enter your own favorite recipes by completing a simple form. Some recipes can even be imported from other websites. Remember to include a personal story on why that recipe is important to make your cookbook come alive. You can even include photos if you wish.
4) Design your Cookbook – At any time you can select from professionally designed cookbook covers, dividers and recipe layouts to personalize your cookbook. We automatically create a table of content, list of contributors and a recipe index so you don't have to. You also have the flexibility to create your own cover and layouts if you choose.
5) Order your copies – As editor, you order the books yourself -- and your folks can use our pre-order tool to allow each contributor to tell you how many they'd like. Most cookbook publishers require you to purchase at least 25 or even 100 copies of your cookbook, we have no minimums.
To see how much your cookbook will cost, try our calculator!
Your new personalized family cookbook will become a treasured keepsake to preserve your recipes for future generations. Give them as gifts, share them with friends, try new family recipes, keep adding to your online collection and be proud of your accomplishment for your family.
Now that you know how simple it is, click here to get started!