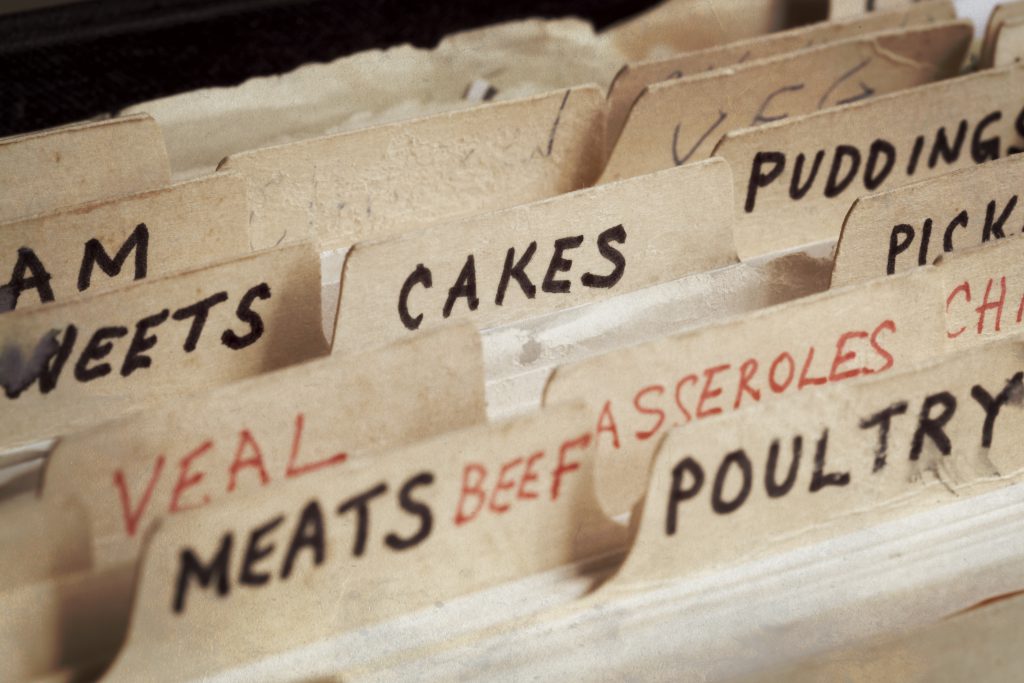 Whether you are adding a family favorite on FamilyCookbookProject.com, starting a blog, or entering a recipe contest, learning how to properly write a recipe is a valuable skill any food lover can use.
Below are a few standards and general rules of thumb when it comes to writing a recipe.  It is important to accurately communicate the ingredients and process, so your recipe can be recreated by others.
There are five parts to a great recipe, the Title, Ingredient List, Preparation Method, Number of servings and Comments. Each one plays an important part in the overall recipe.
Recipe Title:
This is the  name of your recipe using words that accurately describe the dish.  Feel free to have a little fun and make it catchy!  You want people to keep reading and be inspired to make the recipe themselves. Which would you rather have, a "chocolate chip cookie" or a "Grandma's Ultimate Chocolate Chip Cookie".
The Ingredient List
The ingredients tell the reader what is needed to make the recipe.  List all ingredients in order of use, as described in step-by-step instructions. When several ingredients are used at the same time (in the case of baking, often all the dry ingredients are sifted or mixed together at once), list them in descending order according to volume. If there is an issue over preparation, list in order, so for example if you need the zest and juice of a lemon, list the zest first and then the juice since that is the order you will do the preparation.
If the recipe has different elements (a pie, for example has a crust, a filling), break up the ingredient list with headings such as "Crust" and "Filling." On the FamilyCookbookProject.com Add a Recipe form, there is a checkbox to make a multipart recipe. This is handy for creating sub recipes within a larger recipe.
Try not use two numerals together. You need to set off the second number in parenthesis. This comes up with sizes of packages. For example, "1 (8-ounce) package cream cheese."
If an ingredient begins with a letter instead of a number, freshly ground black pepper, for example, capitalize the first letter, as in "Freshly ground black pepper."
If the preparation of an ingredient is simple, place that technique in the ingredient list, as in "2 eggs, beaten" or "1 stick butter, softened."
If an ingredient is used more than once in a recipe, list the total amount at the place in the ingredient list where it is first used, then add "divided." In the method part of the recipe, indicated the amount used at each step. For example "1 cup all-purpose flour, divided" then in the method "Sift 3/4 cup of the flour with the…" and later "Sprinkle the remaining 1/4 cup of flour on top of…"
Use generic names of ingredients (semi-sweet chocolate chips, not "Tollhouse chips"
The Preparation Method
The recipe directions tell the reader the specific steps needed to make the dish. Where helpful, indicate the size of bowls and cookware. For example, "In a large mixing bowl….". The same hold true with level of heat when cooking on a stove top.  For example, "Simmer over low heat."
Separate each step into a different paragraph. If you are mixing dry ingredients in a bowl, for example, use one paragraph for all the instructions for that step.
State exact or approximate cooking times, with descriptive hints for doneness, if appropriate. For example, "Sear 1 minute on each side," and "Bake 18-22 minutes, or until crust is light golden brown."
Comments
Personal notes helps make a recipe come alive. Writing about your favorite memories of the recipe or the person who first introduced the recipe to you helps to make the recipe more interesting and personal.
Use this area to also communicate anything additional information someone would need to know to recreate your recipe at home. You can also offer ideas for alternate ingredients, tips, or serving suggestions.
Anytime you are sharing a recipe from an outside source, make sure you give credit where credit is due.
Time and Servings
When you start a recipe, you want to know how much time it will take to make and how many people it will serve. Preparation time includes all the measuring, chopping and other preparation of ingredients. Cooking time refers to the total time the food takes to cook, including any preliminary cooking needed.
Pictures/Videos
One of the best ways to get someone interested in your recipe is to include a photo. How many times did you look through a cookbook and say "my that food looks good". Photos also help the person making the recipe know if their final product looks right compared to the original.
Bill Rice is founder and Co-Publisher of the Great Family Cookbook Project, a website that helps families and individuals collect and share food memories through customized printed cookbooks filled with treasured recipes. Follow us on Facebook and Pinterest!