It's true, the hardest thing about working with FamilyCookbokProject.com is getting all of our beloved recipes entered into the system so we can create a one of a kind cookbook for family and friends.
You have several options when you want to enter a recipe into your own recipe book.
Here are some of my favorite:
Typing – This is straightforward. You open the Add A Recipe form and use your keyboard to type in the recipe and click on the save button (don't forget the last part!).
Other People Typing – One of the features that makes FamilyCookbookProject.com unique is that we make it easy to invite others to contribute recipes to your cookbook so you don't have to do all of the work. Use the invitation tool and have others submit recipes that you can then edit. It's a great way to build a family cookbook and bring everyone together.
Cut and Paste – If you already have many of your recipes in a text format, like in a Word document, you can cut and paste the recipes into the form. This also works when you find a recipe on a website and you'd like to include it in your cookbook.
Here's how: Simply highlight all the ingredients in your source document and hold down the Ctrl key while pressing the "C" key on your keyboard. Next go to "add a new recipe" in your family cookbook site. Click in the ingredients box and now hold the Ctrl key while pressing the "v" key. This pastes what you have copied into the field. Repeat for title, directions and notes and you are done!
Import a recipe from a website – We have created a tool to import recipes from some websites. However, it does not always work because every website is different in the way it lays out its recipes.
From your quick start editors menu, click on the Recipe Center button. There you will find a link to "Import Recipes from another website". This will allow you to take the URL from the recipe page and try to import it into your cookbook. If that does not work, you can cut and paste the ingredients and directions into a new recipe page which is very easy to do.
Dictate recipes – If you don't like to type, you can also talk your recipes into text form that can be cut and pasted into the Add A Recipe form. To see how to do this, see the recent blog post How to Dictate a Recipe Into Your Family Cookbook Project.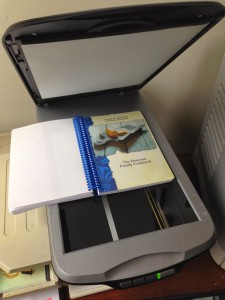 Use a photo – One of the most asked questions we get is "How can I scan a recipe and use it in my cookbook?"
If you have a recipe box or collection of recipes that you would like to scan and use as your recipes in a family cookbook, it can be done. However, a problem with scanned or photographed recipes is that the system can not read the text to create titles and indexes and other parts of the cookbook. The computer just sees them as photos.
So you have two options:
You can include the scanned images as photos attached to recipes that you have typed into the system. This preserved the original form of  the recipe card and makes the recipe highly readable.
Second, you can upload the recipe card image on the Add A Recipe form as the recipe itself and just type the recipe title and contributor name. This saves typing and you get to use the image as the entire recipe. You can add personal notes if you want.
So however you get your recipes entered into FamilyCookbookProject.com, it is the first step to creating what will certainly be a treasured family heirloom to be passed down to future generations.
Bill Rice is Founder and Co-Publisher of the Great Family Cookbook Project, a website that helps families and individuals collect, preserve and share food memories by creating their own printed personal cookbooks. He is the author of The Wellfleet Oyster Cookbook and the Cape Cod Cocktail Cookbook (Available on Amazon), both created using FamilyCookbookProject.com. He is also editor of the Donovan Family Cookbook, now it's third printing and is an avid genealogist tracing his family back to the 1600's.
Follow Family Cookbook Project on Facebook, Instagram, Twitter and Pinterest!