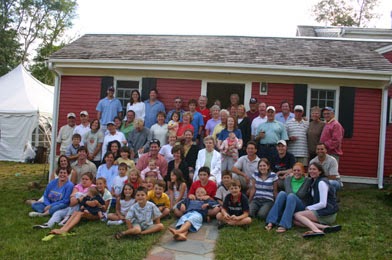 The Donovan Family Reunion
Few gatherings are as meaningful and memorable as family reunions. As families grow and people go their own ways, family reunions serve to bring us back together. They're a chance to recombine, share experiences and renew connections.
One great idea to make your family reunion truly memorable is to create a family cookbook. Everyone knows the best thing about a family reunion is the food! Everyone brings their favorite dishes and shares stories and food and fun.
There are two different schools of thought on the best way to create a family reunion cookbook. You be the judge on what is best for your family.
Reunion Specific Cookbook
Since reunions take a fair amount of time to plan and often center around a theme, choosing a theme centering on food can be a natural choice. Family members are asked to contribute their favorite recipes to a family cookbook that can be distributed at the event. You set a date and ask everyone to contribute the recipes for the food they will be bringing to the event. The cost of printing the cookbooks is included in the cost of the event and everyone receives one the day of the event. This is also a great way to build buzz for your event!
Reunion Showcase Cookbook
The other way families create family cookbooks at family reunions is to use the event to show a sample of what a family cookbook looks like and collect email addresses used to invite contributors.  People will see your excitement and want to participate as well. Find your favorite dishes at the event and ask whoever made them to contribute the recipe to the cookbook. They will be flattered that you asked and look forward to participating.  Set a deadline that will allow you to have your family cookbooks complete so people can give them as gifts for the holidays.
Some things to consider when creating your reunion cookbook
During the planning process, many families are looking for a way to communicate effectively via email. Adding lots of people to the sender line of an email list can result in people being left off and not being able to contact specific people or subsets of the list. FamilyCookbookProject.com can help make this easier. Use our Reminder Email Tool and you make it easy to contact some or all of your family members.
Don't wait until the last minute. When planning a family reunion cookbook, the event is a fixed date and comes and goes whether your cookbook is ready or not. Now is the time to start working on a family reunion cookbook if your event is in the summer.
Remember to invite everyone to participate, not only the great cooks! This cookbook is for all the family members so it best to invite everyone to contribute – even if it is only a recipe or two.
Finally remember family members no longer with us by including their recipes as well. Family cookbooks help to tell the story of our families. Contributors can be not only the present, but from the past as well.
 

Bill Rice is Founder and Co-Publisher of the Great Family Cookbook Project, a website that helps families and individuals collect, preserve and share food memories by creating their own printed personal cookbooks. He is the author of The Wellfleet Oyster Cookbook and the Cape Cod Cocktail Cookbook (Available on Amazon), both created using FamilyCookbookProject.com. He is also editor of the Donovan Family Cookbook, now it's third printing and is an avid genealogist tracing his family back to the 1600's.
Follow Family Cookbook Project on Facebook, Instagram, Twitter and Pinterest!