Are you a foodie who loves to cook and enjoys a good word search puzzle? Look no further than the new book of food and beverage themed word search puzzles from the founder of familycookbookproject.com available now on Amazon.com
If you're already familiar with familycookbookproject.com, then you know that it's a website dedicated to helping families preserve and share their favorite recipes and culinary traditions. And now, Bill Rice, one of the founders of the site has brought that same passion for food and community to a new project: a book of word search puzzles that will test your knowledge of everything from cheeses and wines to candy bars and barbecue.
With 110 puzzles in total, Large Print Food & Beverage Word Search Puzzles for Adults and Seniors offers hours of entertainment for anyone who loves food and words. Each puzzle is thoughtfully themed around a different aspect of food and drink, making it the perfect gift for foodies, puzzle enthusiasts, and seniors who are looking for a fun and stimulating activity.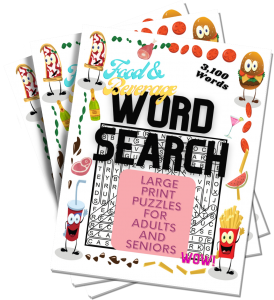 Some of the themes you can expect to see in this book include:
Cheeses: Whether you're a fan of sharp cheddar, creamy brie, or pungent blue cheese, you'll love searching for all the different types of cheese hidden in these puzzles.
Wines: From bold reds to crisp whites, there's a wine for every occasion – and a word search puzzle to match. Test your knowledge of different varietals, regions, and wine-related terminology.
Candy bars: If you have a sweet tooth, you'll enjoy hunting for all the different candy bars hidden in these puzzles. From classic favorites like Snickers and Hershey's to more obscure treats, there's something for everyone.
Beverages: From coffee and tea to soda and cocktails, this theme covers all your favorite drinks. You'll be on the lookout for everything from brand names to beverage-related slang.
Things in a grocery store: This theme is perfect for anyone who loves to wander the aisles of their local supermarket. You'll be searching for all kinds of foods, from fruits and vegetables to meats and dairy products.
Barbecue: If you're a grill master, you'll appreciate this theme dedicated to all things barbecue. Look for different types of meats, sauces, and cooking methods.
Beers: Whether you prefer a hoppy IPA or a refreshing pilsner, you'll enjoy searching for all the different types of beer hidden in these puzzles.
And that's just the beginning. Other themes include breakfast foods, desserts, spices and herbs, and international cuisines. With so many different topics to choose from, you're sure to find something that appeals to your taste buds.
So why should you buy this book? For one thing, it's a great way to challenge your brain and keep your mind sharp. Word search puzzles have been shown to improve cognitive function and memory, making them a fun and healthy pastime for people of all ages.
But beyond the mental benefits, this book is just plain fun. Whether you're sitting down to relax after a long day of cooking, or you're looking for a fun activity to share with friends and family, these puzzles are sure to provide hours of entertainment.
And if you're a fan of familycookbookproject.com, you'll appreciate the care and attention to detail that went into creating this book. Like the website, this book is all about celebrating the joys of food and bringing people together around the table. It's a great way to show your support for a community that's all about preserving culinary traditions and sharing the love of cooking with others.
So, if you love to cook and enjoy word search puzzles, this book is a must-have. With 110 puzzles themed around all your favorite foods and beverages, it's a fun and engaging way to challenge your mind and test your knowledge. So why not pick up a copy today and start exploring all the delicious themes hidden within its pages?
So get your copy of  Large Print Food & Beverage Word Search Puzzles for Adults and Seniors today! And get a second copy to give as a gift to someone you love too!