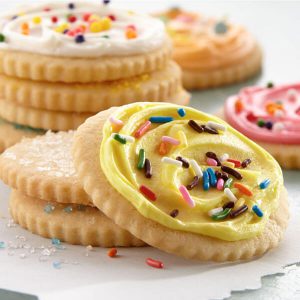 In our house, there is nothing like a warm, soft cookie right out of the oven. However since it is not practical to make dough for only a few cookies at a time, the next best thing is to freeze your cookie dough and pull out enough cookies for your immediate needs.
Freezing cookies also provides time saving opportunities when you want to get ready for a holiday cookie swap in October or getting ready for a school bake sale anytime.
How you best freeze cookies depends on what type of cookie you are making. The Family Cookbook Project had collected thousands of cookie recipes if you need a suggestion.
Cookies like chocolate chip and oatmeal-raisin freeze best if you make the actual cookie beforehand. Scoop out the dough just as if you were about to bake it and place it on a baking sheet lined with parchment or a Silpat (they can be close, but not touching). Instead of putting it into the oven, but them into the freezer for at least 6 hours instead. Once frozen, the dough balls get sealed inside a plastic freezer bag and when it is time to bake, you are ready to go.
Cookies like shortbread or sandies, or any smooth slice-and-bake cookies can be pressed into logs, wrapped in wax paper and frozen solid. Prepare the dough as usual, then shape it into one or two logs that can be covered with wax paper and placed in a plastic freezer bag. When you're ready to bake, let them warm on the counter for 10 to 15 minutes before slicing. You might also want to let the logs thaw in the fridge for a few hours before you're ready to use the dough. Slice the cookies into thick disks and you're ready to put them in the oven as usual.
The third type of cookies that can be frozen are cut-out cookies, like sugar cookies and many holiday cookies. The dough for these cookies can be frozen in disks and then stacked together with wax paper between them. When ready to bake, thaw until bendable and continue with the recipe.
Most frozen cookies will need an extra minute or two in the oven. Otherwise, prepping and baking the cookies is exactly the same as in the recipe.
Bill Rice is Founder and Co-Publisher of the Great Family Cookbook Project, a website that helps families and individuals collect, preserve and share food memories by creating their own printed personal cookbooks. He is the author of The Wellfleet Oyster Cookbook (Available on Amazon) and the Cape Cod Cocktail Cookbook, both created using FamilyCookbookProject.com. He is also editor of the Donovan Family Cookbook, now it's third printing and is an avid genealogist tracing his family back to the 1600's.
Follow Family Cookbook Project on Facebook, Instagram, Twitter and Pinterest!