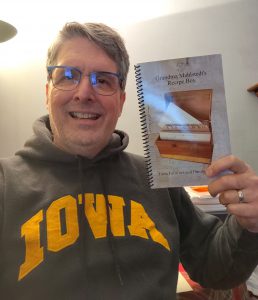 We did it. Started this project the end of August 2020. Took a break over Dec, then finalized things in Jan. Placed our order and received them by mid Feb.
This was so easy and fun to do. I put together another family cookbook in 2004 and all I had was Microsoft Word. Then I was at the mercy of some guy at the Xerox store to copy and bind a book for me, not knowing what it would look like till it was done.
Using FamilyCookbookProject.com made this a breeze. Being able to see what the book would look like while we were creating it really helped to visualize the final product. Being able to add our own pictures as well as genealogy family charts help to make this a family heirloom that generations will enjoy.
If I had a suggestion it would be to have more editing abilities with photos. What I mean is, being able to add multiple individual pictures on a single page. I was only able to accomplish this by putting multiple pictures on a blank Microsoft word document, and then creating a JPEG file from that document. While it did work, it wasn't very convenient.
We are all very pleased with the final product that was created. Now it's just a matter of handing them out to family members and sharing the memories. thank you
Cheers!
Kevin
Grandma Mahlstedt's Recipe Box
Thanks for sharing Kevin! And by the way, we are working on creating a more flexible photo layout tool that should be announced in the near future.
Bill Rice is founder and Co-Publisher of the Great Family Cookbook Project, a website that helps families and individuals collect and share food memories through customized printed cookbooks filled with treasured recipes. Follow us on Facebook and Pinterest!