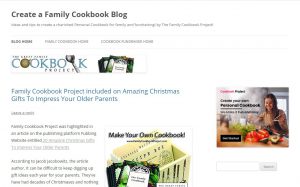 Family Cookbook Project is very proud of our blog Creating A Family Cookbook Project. Each week we post articles on what's new for Family Cookbook Editors, recipe writing hints, How to make a better family cookbook articles and general cooking tips for our readers.
Here are the  most read articles of 2020:
1) How To Scan Recipe Cards into a Family Cookbook
2) Common Peppers at your Grocery Store
3) 4 Family Cookbook Mistakes to Avoid
4) How Many Recipes Should a Cookbook Have?
5) Cost of Printing A Family Cookbook
6) Family Cookbook App for iPhone and Android!
Bill Rice is founder and Co-Publisher of the Great Family Cookbook Project, a website that helps families and individuals collect and share food memories through customized printed cookbooks filled with treasured recipes. Follow us on Facebook and Pinterest!