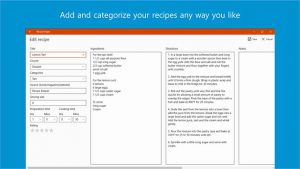 Many people who have entered recipes in the past into a word processing program, like Microsoft Word, often of ask us for a way to import these recipes into Family Cookbook Project.
Unfortunately, there is no automatic way to import these recipes into our system because each source uses its own layout and there is no way for us to identify what information needs to needs to be entered into our fields.
Cut and Paste
The good news is that it's quick and easy to copy and paste a recipe into Family Cookbook Project using cut and paste on your computer.
Here's how: Simply highlight all the ingredients in your source document and hold down the Ctrl key while pressing the "C" key on your keyboard. Next go to "add a new recipe" in your family cookbook site. Click in the ingredients box and now hold the Ctrl key while pressing the "v" key. This pastes what you have copied into the field. Repeat for title, directions and notes and you are done!
This process also can be used to import recipes from other websites. However, remember to credit the source of the recipe in your recipe notes.
Scanning recipes
Another way editors look to add recipes is by scanning. The problem with scanned recipes is that the system can not read the text to create titles and indexes and other parts of the cookbook. The computer just sees them as photos.
Here is a blog post that should help answer your questions:
http://family-cookbook-project.blogspot.com/2014/03/scanning-recipes-into-cookbook.html
Moving recipes between cookbooks
If want to transfer recipes from one cookbook to another, you can do so by using the Recipe Transfer Tool.  Go to Editor Tools>Publishing Tool. You will find the link at the bottom of the page since it is still in the testing (beta) phase. This tool offers step by step instructions on how to move your recipes to the new cookbook.
Bill Rice is founder and Co-Publisher of the Great Family Cookbook Project, a website that helps families and individuals collect and share food memories through customized printed cookbooks filled with treasured recipes. Follow us on Facebook and Pinterest!