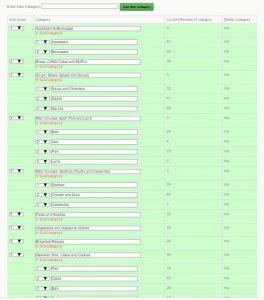 One of the things that we are most proud of at FamilyCookbookProject.com is the ability to give complete control of every aspect of making a cookbook to the project's editor. We provide professionally designed options that are perfect for most people, but some have visions of something different.
One of the things that you can customize went creating your family cookbook project is your recipe categories.  We provide 8 basic recipe categories that organize your recipes into types of meal.
Appetizers & Beverages
Bread and Muffins
Soups, Stews, Salads and Sauces
Main Courses: Beef, Pork and Lamb
Main Courses: Seafood, Poultry, Pasta and Casseroles
Vegetables and Vegetarian Dishes
Desserts, Pies, Cakes and Cookies
Miscellaneous
By using our custom category tool, you can add different categories or change them altogether. For example, if you wanted to create a dessert cookbook, the categories would all be dessert related. We've also seen people organize their recipe sections by family member.
You can also create sub-categories or categories within categories. In my personal cookbook I have a category for Seafood and then I have added subcategories for Clams, Fish, Oysters, Crab and Shrimp. This way, if I need a shrimp recipe, they are all grouped together.
You can create your own Custom Categories and sub-Categories by going to the Recipe Center on your Editor's Homepage.  Then click on Category Add/edit.   Once you add your new categories, you'll see a sort field – simply number them as you'd like them arranged and Save.
One note, if you use both our default categories and your own custom categories, ours will come first, then yours in the order you set.  If you want full control, create all your own categories and set the selection to "Use ONLY your own custom categories" .
If you need to move recipes, there is a bulk move tool at the bottom of the Category Section Editor.
Bill Rice is founder and Co-Publisher of the Great Family Cookbook Project, a website that helps families and individuals collect and share food memories through customized printed cookbooks filled with treasured recipes. Follow us on Facebook and Pinterest!l