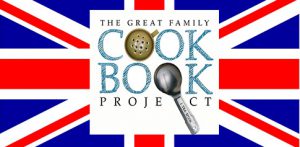 Family Cookbook Project is pleased to announce that our personal cookbook making software is now available to individuals living in the United Kingdom at FamilyCookbookProject.co.uk
Since 2004, our ever-expanding website has helped more than 90,000 individuals and families in the USA and Canada create beautiful lasting personal cookbooks. Now individuals in the UK have the ability to enter their best recipes into their online recipe box and create a beautiful printed customized cookbook that they can share with family and friends.
The website has been modified specifically for the needs of our new UK customers. It has the same functionality that will allow them to collect and enter their favorite recipes into the online program. The communication tools that allow them to Invite others to contribute online are available as well.
The cookbooks will be printed in Oxfordshire, north west of London, using The latest digital print equipment for fast turn-a-round. Our printer uses 100% renewable energy and works to recycle 99% of their waste.
Design your own cookbook has never been easier than by using Family Cookbook Project's professionally developed covers, dividers and layouts to design your on personal recipe book.  Add your recipes, write an introduction and add photos if you wish. Our program will automatically create the table of contents and indexes for you and you're ready to go.
Order as many cookbooks as you'd like and download our award-winning app to conveniently access your recipes from your mobile device.
For more information, visit FamilyCookbookProject.co.uk.
Bill Rice is founder and Co-Publisher of the Great Family Cookbook Project, a website that helps families and individuals collect and share food memories through customized printed cookbooks filled with treasured recipes. Follow us on Facebook and Pinterest!