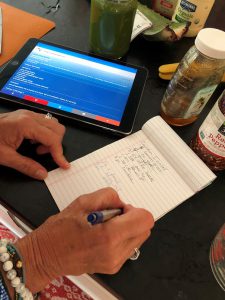 Your recipe title is the single most important element of your recipe. This is because your title is a headline, and the headline in any type of content has one special and powerful property.
Think about how you read a cookbook looking for a recipe to try.  You don't start in the front and read every page like a novel then pick the one you want. No, you scan the pages looking for a photo or recipe title that catches your eye and looks interesting!
Of all the elements in your recipe, the title has the greatest power for grabbing your readers' attention and the greatest responsibility for enticing them to continue and read your recipe It follows that the better your title, the higher the chance of turning a recipe scanner into a recipe reader (and ultimately a recipe user).
For a recipe title to be effective it needs to consider several things:
Grab Attention – Like any headline you need to grab the readers attention.
Describe the food being prepared – "Gruel" is one of my son's favorite dishes, however it no one outside the family knows what it is. Including the main ingredient of the dish and even how it us prepared make the title more useful. "Baked Hamburger Gravy" would be a more descriptive title for our gruel.
Be different and unique – If you have seen the recipe title before, it does not belong on your recipe!
Include the source – In family cookbooks, certain people are associated with certain recipes. Grandma's Apple Pie or Lou's Lemon Bars help the reader image exactly what dish you are referring to. It just does not help anyone who is not at family gatherings!
Sell the sizzle as well as the steak – This means to highlight the benefit, the reason why this recipe is worth making.
Recipe titles that address cooking and eating needs are more likely to seduce the reader into the recipe itself. A good title clearly shows the reader which of their cooking and eating needs the recipe addresses. Every readers' need is different. For example, it could be for something indulgent or something low fat, or something quick and easy or something sophisticated and thus involved, or something refined or something rustic.
Consider the following recipe titles: 'Soft and Chewy Chocolate Chip Cookies', 'Quick 'n' Easy Chocolate Chip Cookies', 'Grandma's Favorite Chocolate Chip Cookies', 'Gluten Free Chocolate Chip Cookies'. Notice how each title addresses a different need and even appeals to different audiences. Quite simply, as the chocolate chip cookie examples show, it's all down to the words you choose for your title.
With a little thought and imagination, your recipe titles can stand out and make your readers give your recipes the attention they deserve.
Bill Rice is founder and Co-Publisher of the Great Family Cookbook Project, a website that helps families and individuals collect and share food memories through customized printed cookbooks filled with treasured recipes. Follow us on Facebook and Pinterest!