At Family Cookbook Project, we are always trying to improve our offerings to our members. We are please to announce two new pre-designed cookbook covers that you can choose when designing your own personal cookbook.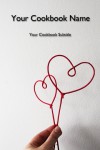 Hearts on a Stick – Hearts on a stick is a great cover for any food lover. It can also be the perfect cookbook cover for a wedding cookbook or a bridal shower cookbook.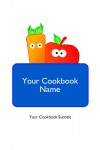 Carrot and Apple – Carrot and Apple is a simple but fun illustration that is perfect for a kids cookbook cover. It can also be effective for a school fundraising cookbook cover.
These two new covers join over 50 professionally designed cookbook covers for you to choose from when you create your personal cookbook with FamilyCookbookProject.com.