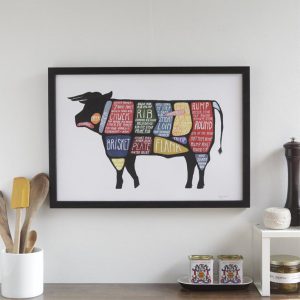 Ever want to know where your meat comes from? What part of a cow does a butcher use for his or her cuts of meat?
Now you can.
A talented artist from San Francisco, Alyson Thomas,has created a print that you can buy to display on your wall or in your meat aging room (if you have one!).
Here is what she says about the artwork:
This is a signed 13 x19 poster of my original gouache and acrylic painting. I *extensively* researched retails cuts of beef to fully flesh out what primal cut part of the cow they come from. The result is a both a highly accurate and informative diagram, as well as a bold and colorful piece of art. I've even had culinary students buy this piece to study.
You can buy this detailed cow butcher diagram here.
Family Cookbook Project is a great way to save your favorite beef recipes. Enter your recipes once and always have access to them. You can even print your own cookbook.
Bill Rice is Co-Publisher of the Great Family Cookbook Project, a website that helps families and individuals collect and share food memories. Follow us on Facebook and Pinterest!