Have you ever had a cake recipe that really needed a specific frosting? Or a meat recipe that required a special sauce? Wouldn't it be great if a recipe could have sub recipes attached to keep them together?
Many of our FamilyCookbookProject.com editors have asked for the ability to have multiple sections or steps in recipes. We like to listen and have added it! Now you can have up to 5 "sub" recipes or steps within a recipe, each with its own set of ingredients and directions. Example? You have Carrot Cake and you want a section for the "Cake" with its ingredients and directions, then "Cream Cheese Frosting" with another set of ingredients and directions.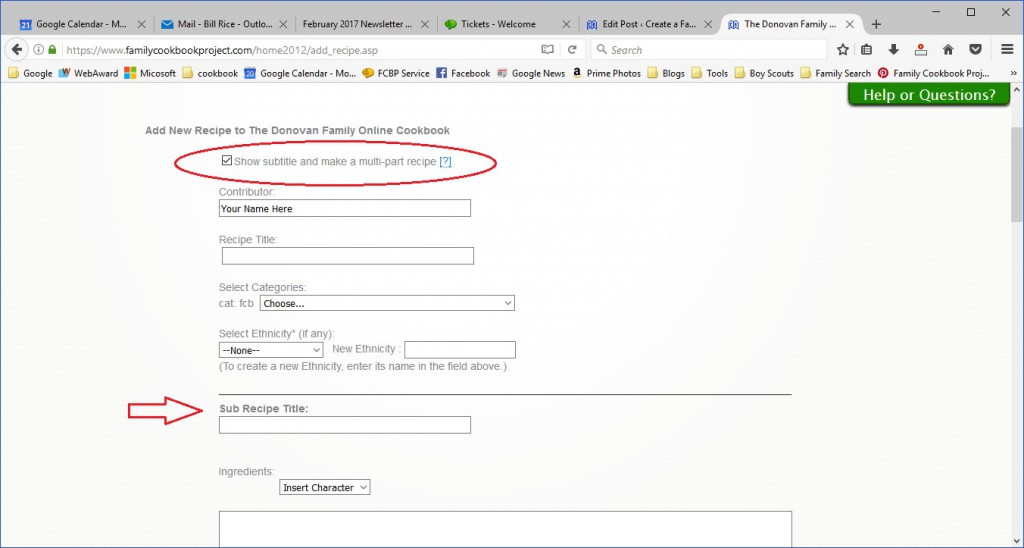 To use this feature, simply go to Add Recipe or Edit an existing recipe. First check the box for "Show subtitle and make a multi-part recipe" right under the contributor field. This will add a field for the sub-recipe title.
Using our example above, here is where you would add your carrot cake ingredients and directions.
Next, click on the green button to "Add new sub recipe". This will add fields for a second set of sub recipe titles, ingredients and directions for your Cream Cheese Frosting.
You can add up to five sub recipes for your overall recipe.
When you are done, make sure to click on the green button on the bottom of the page to save your recipe before moving on to your next recipe.
Bill Rice is Founder and Co-Publisher of the Great Family Cookbook Project, a website that helps families and individuals collect, preserve and share food memories by creating their own printed personal cookbooks. He is the author of The Wellfleet Oyster Cookbook and the Cape Cod Cocktail Cookbook (Available on Amazon), both created using FamilyCookbookProject.com. He is also editor of the Donovan Family Cookbook, now it's third printing and is an avid genealogist tracing his family back to the 1600's.
Follow Family Cookbook Project on Facebook, Instagram, Twitter and Pinterest!