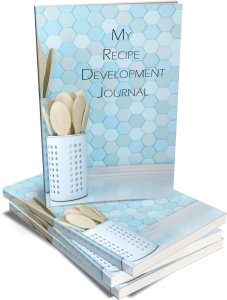 Are you the kind of person who likes to build a recipe from scratch while cooking? Or maybe take a dish you had in a restaurant and try to recreate it? Or maybe think back to your grandmother's meatloaf recipe, that she never wrote down and you want to recreate? We have something to help.
The Family Cookbook Project Recipe Development Journal is now available on Amazon. It was designed to provide you with an organized place to develop and test your very own recipes before you enter them into your family cookbook.
8.5″x11″ in size, each recipe is a two page spread with loads of space to add and cross out the details of your next great recipe. It has all of the fields of a Family Cookbook.com "Add a Recipe" form to make it easy to add to your cookbook when complete.
Recipe Title
Prep Time
Servings
Original Source of This Recipe
Ingredients
Notes
Directions
Memories or people who I think of when I make this recipe
This Recipe Development Journal makes a great gift for friends and family or just get one for yourself this holiday season.
Bill Rice is Founder and Co-Publisher of the Great Family Cookbook Project, a website that helps families and individuals collect, preserve and share food memories by creating their own printed personal cookbooks. He is the author of The Wellfleet Oyster Cookbook and the Cape Cod Cocktail Cookbook (Available on Amazon), both created using FamilyCookbookProject.com. He is also editor of the Donovan Family Cookbook, now it's third printing and is an avid genealogist tracing his family back to the 1600's.
Follow Family Cookbook Project on Facebook, Instagram, Twitter and Pinterest!