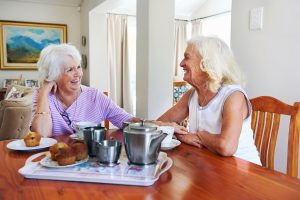 Here is a great idea for your Mother's Day idea – a personal cookbook filled with Mom's favorite recipes and photos. Imagine having all of her favorite recipes in one beautiful printed cookbook to be passed down for future generations.  That would make a truly unique Mother's Day gift that would be remembered for a long time.
There are a few ways Family Cookbook Project can be used for a Mother's Day gift.
If Mom is able to use a computer, she can select the recipes she wants to pass along and write her memories of them and why they are important to her.
If Mom is computer-challenged, someone can sit with her going over her recipes and entering them for her. This is a great bonding experience and can unlock cherished memories.
If Mom has passed, entering her recipes into a family cookbook is a great way to pay tribute to her and become a gift to the next generation of mothers.
Sometimes a recipe box can be used to get the ball rolling. It can be fun to see which recipes bring back strong memories of food, family and good times.
Family Cookbook Project has helped tens of thousands of people create their own printed personal cookbooks. It is the fun, easy way to organize recipes and preserve her favorite family food traditions! Our product offers the ability to create online cookbooks with unlimited recipes and easy-to-use design tools. When you're done, you can order printed versions for the whole family.
Our Make-a-cookbook software allows you to do it yourself or have others help! Invite family or friends to add recipes and photos for a finished product that's truly unique! Fill your cookbook with photos, stories and handwritten recipes for a gift that's thoughtful and practical and makes a great gift.
With 100s of layout and cover options and easy to use tools, you don't have to be an expert to create a cherished heirloom that will keep our favorite recipes and memories alive forever.  Perfect for users of all ages, our software is highly intuitive and user-friendly as we automatically generate indexes, the table of contents and more.
To start your own family cookbook, go to FailyCookbookProject.com or you can give a gift certificate to start an account for your mom.
Bill Rice is founder and Co-Publisher of the Great Family Cookbook Project, a website that helps families and individuals collect and share food memories through customized printed cookbooks filled with treasured recipes. Follow us on Facebook and Pinterest!