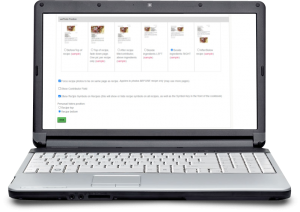 Photos are such an important part of any good personal cookbook. They help to bring the food to life and show family members enjoying time together.
The vast majority of cookbook publishers today only allow a single image per recipe and it is always in the same position.
FamilyCookbookProject.com has just announced an industry leading upgrade that allows you to control multiple photos and images on a recipe to get them to look just right for your cookbook.
As part of the Recipe Layout Tool, you can set a global photo position. There are six options:
On top/before the recipe
On to with a fade
After recipe title
Right of the ingredients
Left of the ingredients
After the personal notes/end of recipe
By default, recipes photos are "stacked" one after another down the page in the order determined in the settings. When you edit a recipe with a photo, you will see seven different standard positions that the photo will be located as part of that recipe layout. If you need even finer control, you can select the Custom Photo Arranger Tool to precisely set the location on the page of that particular recipe.
If there are multiple photos, you can build a collage and allow the photos to overlap, set the order and change size of each photo.
The new collage arrangement will be positioned based on your global or unique recipe position.  The exception is Right/Left of Ingredients.  That will always use the "stacked" look down the ingredients column.
You also have the option to generate a pop-up preview to see exactly how the images and text will look on the printed recipe page with a single click.
Below is a video tutorial to show you how to use the new photo placement tools.
Bill Rice is founder and Co-Publisher of the Great Family Cookbook Project, a website that helps families and individuals collect and share food memories through customized printed cookbooks filled with treasured recipes. Follow us on Facebook and Pinterest!