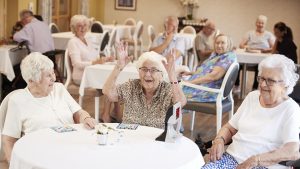 We received an email from Kori, an activity director in an assisted living home. She had an idea that we thought we'd share.
She wrote "Mother's Day is coming up and with isolation precautions in effect, I was thinking of a way to honor our moms.  My idea is a cookbook of the children of the moms in our community favorite recipes."
We at FamilyCookbookProject.com think this is a wonderful idea and our online program is uniquely suited to create this kind of a lasting tribute to those who made so many meals for us.
Here is how to create an Assisted Living Cookbook
Invite Recipe Contributors – The first step after establishing your FamilyCookbookProject.com account is to let those in your community know about the project and asking them to share a favorite recipe or two from their loved one. Use your facilities email lists or newsletter to generate interest and then when the responses come in, use the Invitation Tool to add those individuals into the cookbook. This will send them an email with their own username and password and they can add the recipes directly into the system.
Design Your Assisted Living Cookbook – Select a cover from our professionally designed covers or create your own, write an introduction and select a recipe layout (I recommend the Easy Reading format (T3) which is good for older eyes). Our system will automatically create a table of contents and recipe index for your cookbook.
Publish Your Cookbook – While it is too late to get any printed copies for this Mother's Day, You could make available a PDF copy of the cookbook to everyone. Families could also access the cookbook online using our app. Printed copies of the cookbook would make great holiday gifts for families and staff members.
When families enter the recipes directly into the cookbook. there is a field for personal notes that they can use to talk about their special person and why the dish reminds them of the person.
If you have a loved one in an assisted living facility, suggest a community cookbook to the activity director or maybe volunteer to be the coordinator as a great way to bring your community together.
Bill Rice is founder and Co-Publisher of the Great Family Cookbook Project, a website that helps families and individuals collect and share food memories through customized printed cookbooks filled with treasured recipes. Follow us on Facebook and Pinterest!