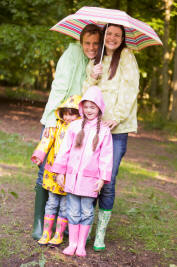 This is a great time of year. It's rainy, it's sunny, it's warm, it's cold. We are all getting excited for new growth and fun get-togethers outside. It's also a perfect time to get your recipes together for your cookbook at Family Cookbook Project or your fund raising event at Cookbook Fundraiser. Our cookbook templates, custom recipe layout tools and family and group contacting tools make it easy and fun!
Mothers' Day Cookbook Printing Deadline
If you are planning on having your cookbook ready for Mothers' Day, it's on May 8th this year. You'll need to get your print orders in by Thursday April 14th in order to receive them on time for gifts.
Getting Ready for Family Reunions
If your family has an annual family reunion in the summer, now is the time to get people contributing to your family cookbook. A cookbook is a great way to get family members excited about getting together – and what family reunion did not feature mountains of mouth watering food and family recipes!
If you don't want to get people contributing before-hand, use the event to collect email address and get family members eager to contribute their best recipes.
Bill Rice and Chip Lowell
Co-Publishers
Family Cookbook Project


Featured recipe from the database
The Great Family Cookbook Project has a huge amount of public recipes in the system thanks to you! If you need a fun recipe idea that's not in your own cookbook, go to our home page and use the search function to see what's available – lots of good eats!
Here is a recipe we tried recently:
Pecan-crusted Sliders Recipe
This recipe for Pecan-crusted Sliders, by Linda Powell, is from The Powell Family Cookbook Project. Search for more great recipes here from over 300,000 in our family cookbooks!
Ingredients:
12 oz pork tenderloin sliced in 1/2 inch slices
1 cup of finely chopped nuts
1 egg
2 tbsp honey
2 tbsp cooking oil
1 green apple
1 and 1/2 cups shredded broccoli slaw
1/4 cup mayonnaise
8 small dinner rolls or buns
Dijon mustard
2 tbsp water
Directions:
1.Flatten pork pieces by pounding gently under saran. Pork is already a fragile meat so careful not to over flatten. You should end up with about 1/4 inch thick.
2.In shallow dish whisk egg and 1 tbsp honey. In another shallow dish combine chopped nuts, 1 tsp salt, and 1/2 tsp pepper.
3.Dip pork in egg mixture then nut mixture, pressing in to coat.
4.Heat oil in skillet over medium-high and cook pork about 3 minutes per side or until golden or amber brown
5. Meanwhile, for slaw, chop the apple into matchstick pieces that will blend well with the broccoli slaw. Combine apple and broccoli in a bowl.
6.Whisk mayonnaise, 1 tbsp of Dijon mustard, 1 tbsp of honey, and 2ish tbsp of water and pour over slaw. It will barely coat. You don't want it too wet or buns will get soggy. Season with salt and pepper.
7. I slice, butter lightly, and broil to toast the split rolls.
8. Place one pork piece on each bun; top with slaw. put roll top on and eat like a hamburger.
Number Of Servings: about 12
Preparation Time: 30 minutes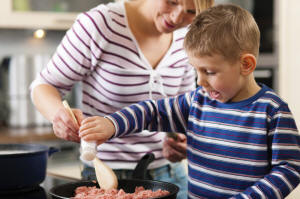 What they are saying
"I LOVE the site and so do the members of my family. A couple of Aunts have even become obsessed with adding recipes and I had to tell them to stop!"
–Laura Kohl, The Hopta Family Cookbook Volume 2
"We have a received our cookbooks and there are a huge success!! Thank you so much! All the ladies at our church are thrilled."
–Wendy Francis, Recipes to Remember
Famous Quotations
We are living in a world today where lemonade is made from artificial flavors and furniture polish is made from real lemons.
~Alfred E. Newman
When I go to a restaurant, I always ask for a chicken and an egg, to see which comes first.
~Unknown