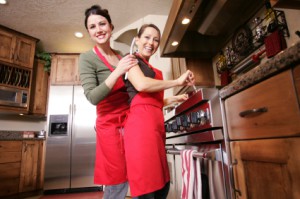 Often when thinking about buying or using a product, folks ask their friends about what they think. In fact, when we ask how someone found our cookbook software and cookbook printing site, FamilyCookbookProject.com or CookbookFundraiser.com, the most common answer is a friend or family member recommended us. How about that! It's just like the movies – "Is this or that movie any good?" we ask before shelling out our dollars.
Well, here are some of our most recent comments:
"I just received my shipment of the Ear, Nose and Throat Associates of South Florida cookbook and they turned out awesome. Everyone is so pleased with them. We would like to possibly place an additional order as we did not order enough. I knew this was going to happen…"
–Laura Sternberg, Ear, Nose and Throat Associates of South Florida Family Cookbook
"I'm really pleased with the cookbooks and can't wait to give them to family and friends for Christmas. They even arrived early. I have told a few friends about my excellent experience with The Great Family Cookbook Project, and many of them are interested in it too for their own projects. I was able to give your organization rave reviews."
–Nancy Mercure, Our Family Cookbook
"I just wanted to get back to you now that I've received the cookbooks. They look great! As you know, I was quite anxious about signing off on the internet printing without something physical in front of me. But, I'm very pleased with how they came out. The picture quality is very good–although I wish I'd made the pictures on the front of the dividers bigger. I'll be presenting them at our family reunion that will be this Thanksgiving. I think everyone will really enjoy them. I appreciate your help throughout the process!"
–Julie Zaideman, Eat, Drink & Be Merry!
"Our cookbooks arrived less than two weeks after the order was placed and they are perfect! You make this
such an easy process. It was a pleasure working with you."
–Carole Robinson, The Robinson Family Cookbook
"Well we received our cookbooks on Monday afternoon, and it's been a flurry of activity ever since. We're almost sold out already!! We love your product and thank you so much for running such a great website/printing process! "
–Robin Fraser, Cookin' the Books
"Yea!!! They're here, they're here!! Thank you so much for your great service. The cookbooks came in over a week before I expected them to. The coil bindings are wonderful, no problems with pages binding, they lay flat easily and they allow the pages to fold all the way to the back. I can't express how much I appreciate that your website was for real (I'm a very apprehensive person when it comes to the internet.) Everything went so good, almost too good to be true. This was a big job that you made easy because of the software, your customer service and your understanding of a lady who was freaking out over the project."
–Patty Athey, Holden Lutheran Church: Where We Go to Be Fed
'The cookbooks are amazing! Thank you so much."
–Shari Crenshaw, Bayou Secrets
"Thank you so much! I just paid by credit card. Looking forward to receiving the final book! Your site has been wonderful to use, and my family is already talking about doing a follow-up edition."
–Tracey Harrelson, From the Kitchen with Love
"Hi! I delivered our family cookbooks over the holiday weekend at our family reunion. Everyone was ecstatic! They loved the cookbooks. They loved it so much they would like to start another book/add recipes to the website. I renewed our annual membership in March. I wondered if I could upgrade to Lifetime status? Many of our family members use the website directly to pull up recipes when they are cooking. I should have gotten the lifetime membership in the first place!"
–Rachel Benjamin, Klick Family Cookbook
"Let me tell you how great this program is. I was able to scrounge together recipes that have been together in my family for 200 years or more. By publishing this cook book, A Real Southern Comfort, you helped me preserve a great piece of family history. This cook book saved a lot of what my family was made up of. In this day and time of fast foods and microwave cooking it would be easy to let all this family history slide by and be forgotten. But not now, not anymore. We have sealed up it's place for generations to come. It is written and will continue for eons to go. This is no small matter. Thank you for all you have done."
–Mike Wallace, A Real Southern Comfort
Want to read more? …read more about what our editors are saying